Just a few years ago, selfies were mocked as a navel-gazing art form embraced solely by millennial narcissists. But today, selfies are the de rigueur social media medium, offering us a personal glimpse into the political arena, the human side of celebrity, and the world at large.
Below, the funniest, controversial, and most important selfies of 2016.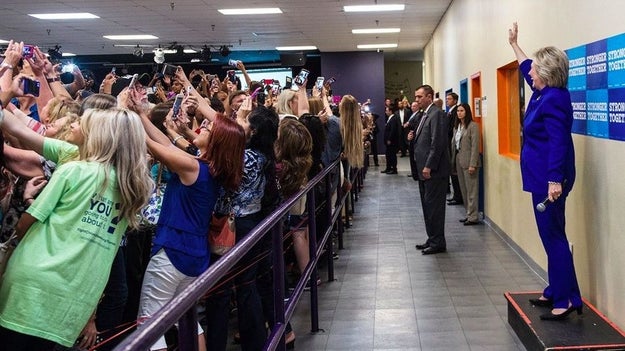 Barbara Kinney / Hillary For America Campaign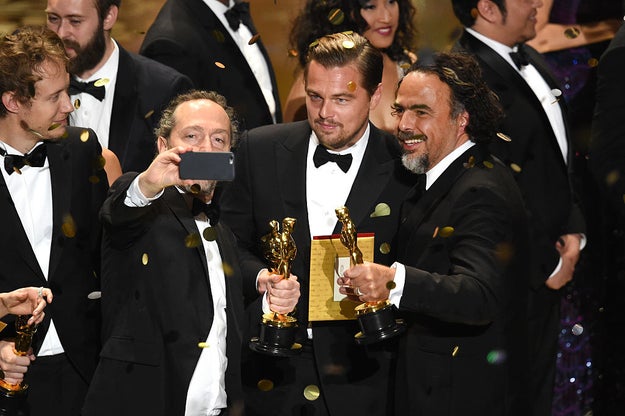 Kevin Winter / Getty Images
Cinematographer Emmanuel Lubezki, actor Leonardo DiCaprio and director Alejandro Gonzalez Inarritu, all winners for 'The Revenant,' take a selfie onstage during the 88th Annual Academy Awards at the Dolby Theatre on February 28, 2016 in Hollywood, California.
The viral white guys selfie.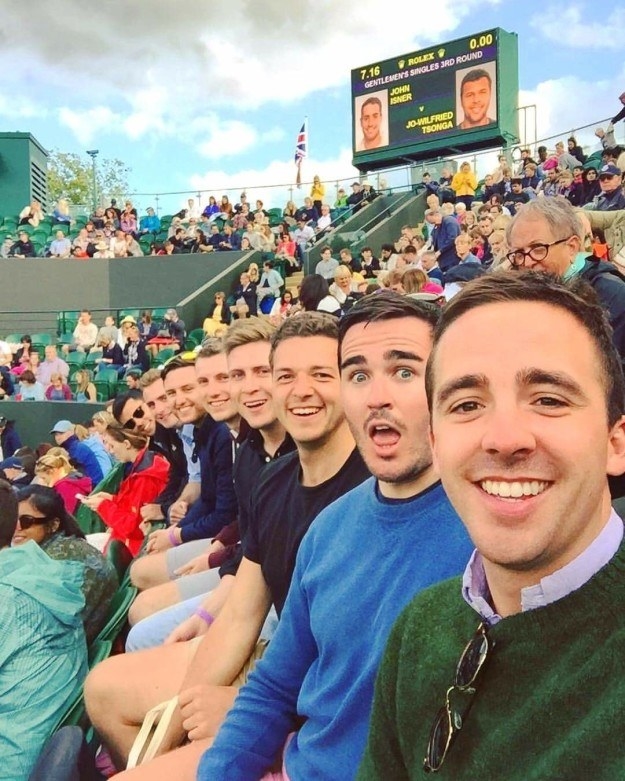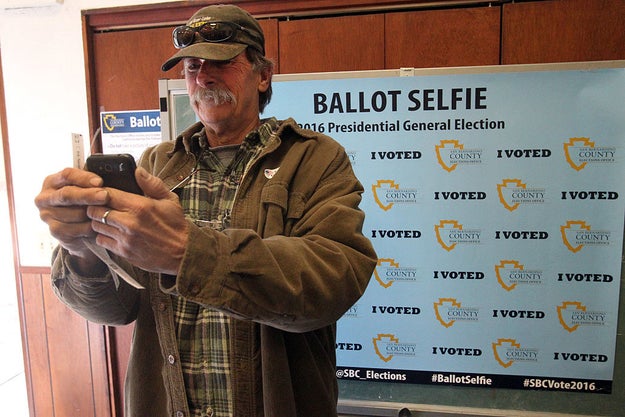 Bill Wechter / AFP / Getty Images
After voting at a polling station at the Big Bear Lake Methodist Church in Big Bear, California, November 8, 2016, a man takes a selfie in front of a banner designed for the purpose.
And the ones from the night everything changed.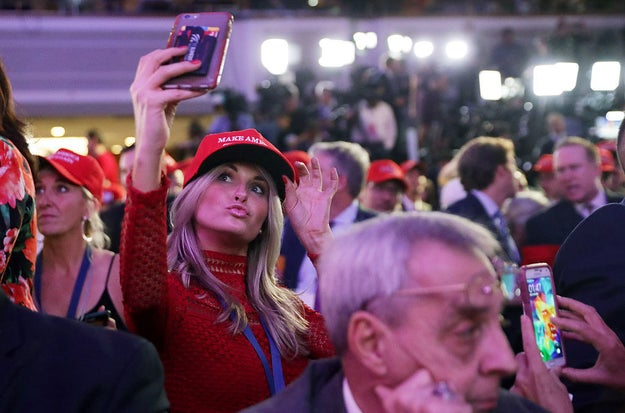 Chip Somodevilla / Getty Images
A woman takes a selfie during Republican presidential nominee Donald Trump's election night event at the New York Hilton Midtown on November 8, 2016 in New York City.
The trans woman who posted a selfie in the women's bathroom to challenge North Carolina's "bathroom law."
Sarah McBride's caption (read more about this story here!):
Here I am using a women's restroom in North Carolina that I'm technically barred from being in.
They say I'm a pervert.
They say I'm a man dressed as a woman.
They say I'm a threat to their children.
They say I'm confused.
They say I'm dangerous.
And they say accepting me as the person I have fought my life to be seen as reflects the downfall of a once great nation.
I'm just a person. We are all just people. Trying to pee in peace. Trying to live our lives as fully and authentically as possible. Barring me from this restroom doesn't help anyone. And allowing me to continue to use this bathroom – just without fear of discrimination and harassment – doesn't hurt anyone.
Stop this. We are good people. #repealhb2
Great having @mike_pence visit today! I'm excited to work with him and @realDonaldTrump to shake up the status quo… https://t.co/ZLOQXlknZQ
…And then the corresponding Democratic intern selfie.
My intern Audra Jackson led Democratic Interns in their own selfie 2day showing #DemInternDiversity #DemInternSelfie
These women proving selfies know no cultural bounds.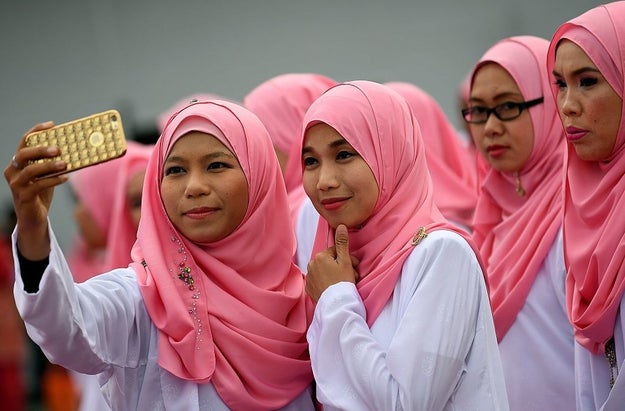 Manan Vatsyayana / AFP / Getty Images
Members of the ruling party United Malays National Organisation (UMNO) pose for photographs before the opening ceremony of the party's annual congress in Kuala Lumpur on December 1, 2016.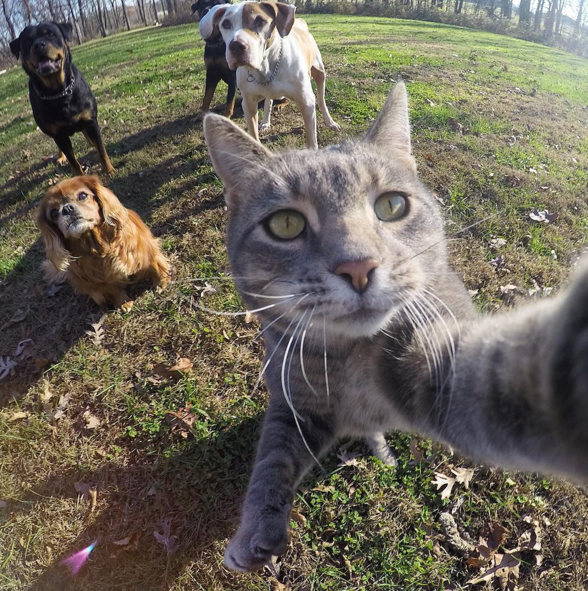 He's better at selfies than all of us, tbh.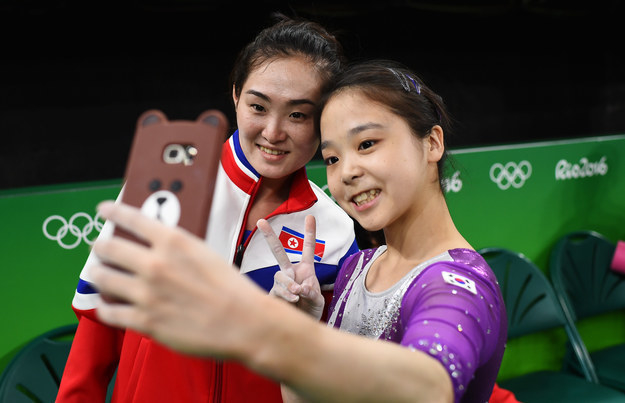 Dylan Martinez / Reuters
Today is the proudest day of my life. I successfully took a picture of me high fiving myself
And a selfie that basically sums up 2016.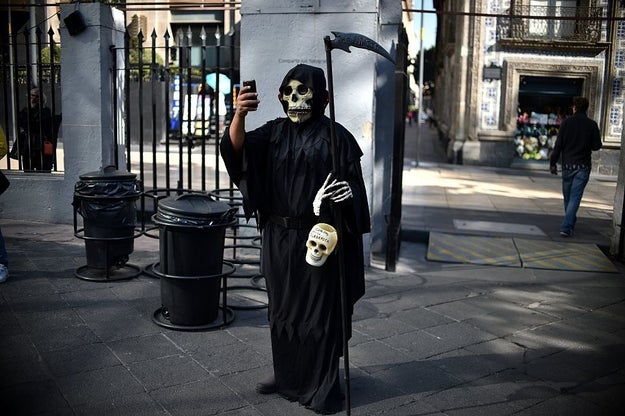 Yuri Cortez / AFP / Getty Images
A man dressed as the "Death" takes a selfie while attending the exhibition and contest of altars organized by the Historic Centre Foundation in the framework of the Day of the Dead, in Mexico City on November 1, 2016.
Comments
comments